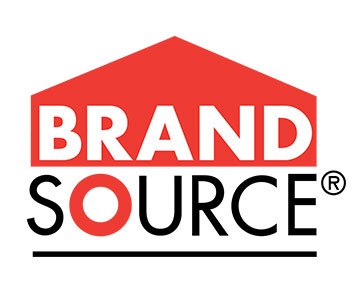 The Brand
The BrandSource Consumer Facing Brand
In 1999 our parent company, Associated Volume Buyers (AVB), took the bold step of creating a consumer facing brand name, giving our members a national identity: BrandSource.  The goal was to create a marketing umbrella for all our members to use to co-brand their stores with BrandSource and allowing us, as a group, to leverage a collective marketing spend driving business to our independent retailers. The primary objective for BrandSource is to market a single message over multiple channels thus increasing the number of customers coming into our dealer member stores.
The BrandSource Marketing team began creating diverse programs that include national TV spots, radio, print (tabs, circulars, postcards), truck skins, yellow page advertising, POP and exterior signage.  We helped dealers create a more uniform look when merchandising their floors with professional product fixturing and display solutions, compelling store layouts and in-store signage. AVB has increased BrandSource recognition through local and national advertising and branding.
BrandSource.com is a nationally recognized resource for bringing footsteps through your doors. All member locations are listed on the brandsource.com locator by product and service category, generating tens of thousands in consumer connections each year.
Today, hundreds of locations across the United States have integrated the BrandSource identity into their websites, digital marketing, social media and all other marketing channels.